| | | |
| --- | --- | --- |
| | | Home |
| | | Urban Landscape |
| | | Flamenco Theme |
| | | Abstract |
| | | Still Life |
| | | Portraits |
| | | Sites |
| | | Resources |
| | | Artist Biography |
| | | Link Us |
| | | Contacts |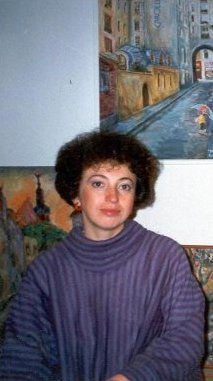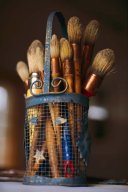 BIOGRAPHY



ARTIST:

OIL PAINTING, ACRYLIC, WHATERCOLOUR and GRAPHIC ARTS.
Iza was born in 1953 in a family of a musician
and an engineer in Moscow, Russia.
From 1972 to 1974, she studied art
in a studio of a well-known Russian artist
Moisei Tevelievich Khazanov, professor
of Art Institute and a student of famous
Robert Rafailovich Falk.
She developed strong passion for oil painting
during that time.
She continued her education
at the
Moscow Surikov Art Institute

in professor
Salakhov's
class
in 1986-1990 years.
She immigrated with her family to Israel in 1990.
While in Israel, she was inspired by the colorful nature of the country; this motivated
her toward using livelier and brighter colors.
She successfully participated
in five exhibitions in Israel.
Painting became like poetry on canvas to her.
It was all about the spirit of a place
in a landscape, or an object in a still life.
She studied in a private studio for abstract art
in Tel-Aviv in 1992.

This did not change
her beliefs in traditional skills,
such as composition, drawing techniques
and use of colors.
Her family and she moved
to Canada in 1993.
They reside in Richmond.
During 1995-96, Iza worked as an art instructor
in Russian weekend school in Richmond. Additionally, she is gives private lessons
to students of various ages,
and continues to tutor young artists.
The peaceful beauty of British Columbia
fascinates her and she is using her art
to capture the essence of the landscape.
Iza has produced a decoration series
of paintings for a local business.
She continues to paint landscapes,
urban scenes and still life compositions.
Iza exhibited one of her paintings
of Jerusalem and donated it
in December 2004
at the 25th Anniversary Concert
of the Hebrew Assistance Association.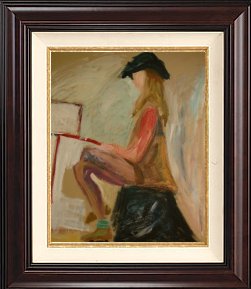 .......................................................
EXHIBITIONS
- Private exhibition, Paris, France, 1989

- Art of Olim-Hadashim, sponsored by Bank Idut, Raanana, Israel, 1991
- Russian artists, sponsored by Bank Discount, Raanana, Israel, 1991
- Young artists, Tel-Aviv, Israel, 1992
- Artists from republics of former USSR, Tel-Aviv, Israel, 1993
- Arnold Mikelson Mind and Matter Art Gallery, Festival of Arts in July, White Rock, BC, 2004